Difference between revisions of "Aishiteraburu! (JKT48 Song)"
---
Revision as of 19:42, 22 September 2017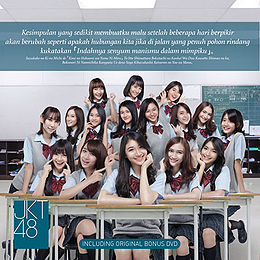 Aishitebaruru! is a coupling song from JKT48's 17th single Kimi no Hohoemi wo Yume ni Miru, by Team T.
Information
Artist
Indonesian Title

Aishitebaruru!
Kanji Title

アイシテラブル!
English Title

Aishiteraburu!
Single
Lyrics can be found -.
Performing Members
Team T : Adhisty Zara, Adriani Elisabeth, Christi, Cindy Hapsari Maharani Pujiantoro Putri, Elizabeth Gloria Setiawan, Eve Antoinette Ichwan, Fidly Immanda Azzahra, Jinan Safa Safira, Made Devi Ranita Ningtara, Melati Putri Rahel Sesilia, Melody Nurramdhani Laksani, Nurhayati, Puti Nadhira Azalia, Regina Angelina, Ruth Damayanti Sitanggang, Sri Lintang, Tan Zhi Hui Celine, Violeta Burhan, Zahra Yuriva Dermawan