IZONE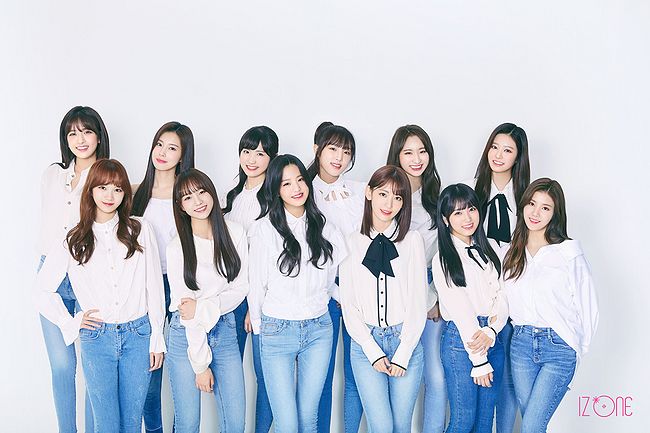 IZONE
Location
South Korea
Debut Single
**
Activity Period
October 29, 2018 -
Producer
**
Theater Manager
{{{theatermanager}}}
Record Label
**
Company
Off The Record, Stone Music Entertainment, AKS
Official Web
**
IZONE (아이즈원) (アイズワン) (often stylised as IZ*ONE and pronounced as "eyes one") is a Korean-Japanese girl group formed in 2018 by CJ E&M through the Mnet television competition show Produce 48, the third season of Produce 101. The group consists of twelve members: Jang Wonyoung, Miyawaki Sakura, Jo Yuri, Choi Yena, Ahn Yujin, Yabuki Nako, Kwon Eunbi, Kang Hyewon, Honda Hitomi, Kim Chaewon, Kim Minjoo and Lee Chaeyeon.
The group is expected to release their debut album in October, and will be managed by Off The Record and Stone Music Entertainment in South Korea, and AKS in Japan.
History
Pre-debut: Produce 48
Prior to appearing on the show, several members had already been active in the entertainment industry. Honda Hitomi previously made her debut as a member of AKB48, while Miyawaki Sakura and Yabuki Nako debuted as members of AKB48's sister group HKT48. Kwon Eunbi previously debuted with Ye-A in 2014 under the stage name Ka-zoo but left the group later. Lee Chaeyeon previously competed in SBS's K-pop Star 3, and JYP Entertainment's own reality survival show Sixteen. Jo Yuri was a contestant in the past 2017 Mnet competition show Idol School, where she came in 15th place. Kim Minjoo had appeared as an actress in music videos and Korean dramas, notably the 2018 MBC television series Tempted.
IZ*ONE was formed through the television competition show Produce 48, which aired on Mnet from June 15 to August 31, 2018. Out of an initial 96 trainees representing various South Korean agencies and the Japanese idol AKB48, the final 12 were chosen by audience voting and announced via live television broadcast.
Similar to the previous group of I.O.I and Wanna One, the group's name, IZ*ONE was chosen through an online public voting during the shows period. 'IZ' is a numeronym for the number 12, a homage to the groups 12 members, while 'ONE' is the indication that the 12 girls is one as a group that was formed through Produce 48. The star (*) inbetween stands for the astrological signs of the zodiacal circle. They will debut on October 29, 2018.
On September 21, 2018, Off the Record Entertainment revealed that they would take over the management of IZONE from Stone Music Entertainment and Pledis Entertainment.
The group will debut on October 29, 2018 with their 1st mini album COLOR*IZ.
Endorsements
Even before debuting, the group has endorsed and collaborated with multiple brands including Overhit, Salewa, and Skoolooks.
Members
| Group | Picture | Romaji | Nickname | Birthdate | Birthplace | Blood Type | Age | Height | Agency | Position |
| --- | --- | --- | --- | --- | --- | --- | --- | --- | --- | --- |
| IZONE | | Ahn Yujin | ** | September 1, 2003 | Daejeon, South Korea | A | 16 | 168cm | Starship Entertainment | Lead Vocalist, lead dancer |
| IZONE | | Choi Yena | Happy Virus | September 29, 1999 | Seoul, South Korea | A | 20 | 163cm | YUEHUA Entertainment | Main rapper, lead vocalist, lead dancer |
| 8 / B / IZONE | | Honda Hitomi | Hiichan (ひぃちゃん), Ppangtomi (bread + (Hi)tomi) | October 6, 2001 | Tochigi, Japan | A | 18 | 158cm | AKS | Lead dancer, vocalist, rapper |
| IZONE | | Jang Wonyoung | Giant Baby, Giant Maknae | August 31, 2004 | Seoul, South Korea | O | 15 | 168cm | Starship Entertainment | Center, lead vocalist, dancer, rapper |
| IZONE | | Jo Yuri | Yul, daengdaeng (puppy) | October 22, 2001 | Busan, South Korea | AB | 18 | 160cm | Stone Music Entertainment | Main vocalist |
| IZONE | | Kang Hyewon | Innocent Rapper, Kwangbae, Kangchan/Kanchan (カンちゃん) | July 5, 1999 | Kyungnam, South Korea | B | 21 | 163cm | 8D Creative | Lead rapper, vocalist, visual |
| IZONE | | Kim Chaewon | Angel Chaewon, Fairy Chaewon, ssam (raddish) | August 1, 2000 | Seoul, South Korea | B | 19 | 160cm | Woolim Entertainment | Lead Vocalist, lead dancer |
| IZONE | | Kim Minju | Minmin, Pepe | February 5, 2001 | Seoul, South Korea | AB | 19 | 165cm | Urban Works | Main visual, lead rapper, vocalist |
| IZONE | | Kwon Eunbi (Leader) | Queen, Eunbit (rabbit), Leader Kwon | September 27, 1995 | Seoul, South Korea | A | 24 | 160cm | Woolim Entertainment | Leader, main dancer, lead vocalist |
| IZONE | | Lee Chaeyeon | Chaen, father | January 11, 2000 | Gyeonggi, South Korea | A | 20 | 164cm | WM Entertainment | Main dancer, lead vocalist, lead rapper |
| KIV / IZONE | | Miyawaki Sakura | Sakura (さくら), Kkura | March 19, 1998 | Kagoshima, Japan | A | 22 | 164cm | AKS | Vocalist, visual |
| H / IZONE | | Yabuki Nako | Nako (なこ) | June 18, 2001 | Tokyo, Japan | ** | 19 | 149cm | AKS | Vocalist |