JKT48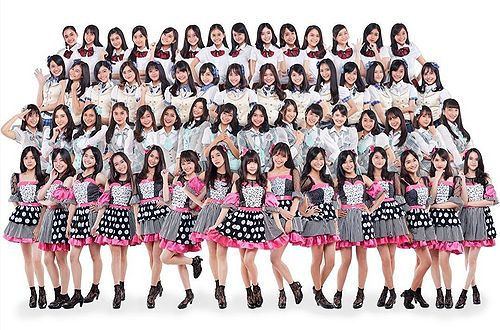 JKT48 (Short of Jakarta48) is an Indonesian Idol Group and the 1st international sister group of AKB48. The group has their own theater in fX Sudirman, on Jakarta, Indonesia. Their first appearance was on December 17, 2011.
Members
Academy (Previous name: Trainee)
Sister Groups
Units
Single Units
Soloists
Within JKT48
Outside JKT48
Discography
Singles
Digital / Another Singles

Albums

Best Albums
Stage Albums and Studio Recording
| | |
| --- | --- |
| Video Recording | Audio / Studio Recording |
Other Songs
Please check the notes after you click "Show" on the right side.
All of the new songs that don't included in discography yet will be listed below. All of coupling songs that will and may be released while the new single just has been announced and has no any information yet about the coupling are included too for temporary. The songs are listed by the initial release / debut year.
The criteria of the 48 Group song are stated to be JKT48 covered songs:
When they sing the song at the first time, the song:

Must be in Bahasa Indonesia (majority of the lyric).
May not be mixed with another language (eg. half Indonesian and half another, or etc), exception for some/few songs that defaultly using two language (eg. Teppen Tottande, GA GA GA, Faint). Usually (although this is actually rare), this will be happened in international concert.
Must be brought at least one verse and one reff as a standalone song on its debute performance.
Must be brought by JKT48 member(s) theirselves (majority of the members).

If a sub-unit brings the song by their version (Eg. Band, Accoustic, Dangdut, etc) and the song is brought for the first time, therefore the song can have another version (one for the rearrangement and one for the normal version)
Cover
Original
Concerts
Stages
Team J
Team KIII
Team T
Trainee (+ Candidate) / Academy Class A
#
Stage name
Date
Performances
1
Pajama Drive
2012.05.17 - 2012.12.13
2013.01.11 - 2013.05.12
2014.05.24 - 2015.01.17
2016.08.07 - 2016.11.19
2019.03.23 -
67
69
88
-
-
2
Boku no Taiyou
(Matahari Milikku)
2013.05.17 - 2013.06.25
27
Tim Bunga Matahari (Himawarigumi)
| # | Stage name | Date | Performances |
| --- | --- | --- | --- |
| 1 | Bunga Matahari | 2016.04.08 - 2016.10.21 | 16 |
Filmography
AKB48 Events
Senbatsu Elections
JKT48 Events
Senbatsu Election
Janken Taikai
Request Hour
Kouhaku Utagassen
Team Shuffles
Please go to here to see the mini shuffles which had done by JKT48. Below are the big shuffle which had done by JKT48:
Anniversaries
Sports Competition
Team Events / Concert
Theater Events
| | |
| --- | --- |
| Theater Anniversary | Other Event |
These mini events are done in some cities/towns, a city/town for a team.
[2018.07.01] Surabaya, East Java (Team J).
[2018.07.03] Jember, East Java (Team J).
[2018.07.05] Malang, East Java (Team J).
[2018.07.07] Semarang, Central Java (Team KIII).
[2018.07.08] Yogyakarta, Special Region of Yogyakarta (Team KIII).
[2018.07.10] Solo, Central Java (Team KIII).
[2018.07.12] Purwokerto, Banyumas, Central Java (Team T).
[2018.07.13] Cirebon, West Java (Team T).
[2018.07.15] Bandung, West Java (Team T).

[2018.10.07] Balikpapan, East Kalimantan (Team T).
[2018.10.13] Makassar, South Sulawesi (Team J).
[2018.10.20] Banjarmasin, South Kalimantan (Team KIII).
[2018.11.04] Medan, North Sumatra (Team KIII).
[2019.01.13] Samarinda, East Kalimantan (Team T).

[2019.06.29] Bandung, West Java. (Team T)
[2019.06.30] Tasikmalaya, West Java. (Team T)
[2019.07.02] Purwokerto, Banyumas, Central Java. (Team T)
[2019.07.04] Tegal, Central Java. (Team J)
[2019.07.06] Yogyakarta, Special Region of Yogyakarta. (Team J)
[2019.07.07] Solo, Central Java. (Team J)
[2019.07.08] Semarang, Central Java. (Team J)
[2019.07.10] Ponorogo, East Java. (Team KIII)
[2019.07.11] Malang, East Java. (Team KIII)
[2019.07.13] Surabaya, East Java. (Team KIII)

[2019.09.21] Palembang, South Sumatra. (Team J)
[2019.10.13] Banjarbaru, South Kalimantan. (Team J)
[2019.10.20] Makassar, South Sulawesi. (Team KIII)
[2019.10.26] Balikpapan, East Kalimantan. (Team KIII)
[2019.11.02] Medan, North Sumatra. (Team T)
TV Shows
Past TV Shows
Radio Shows
External Links