Nogizaka46 "Pretty Guardian Sailor Moon"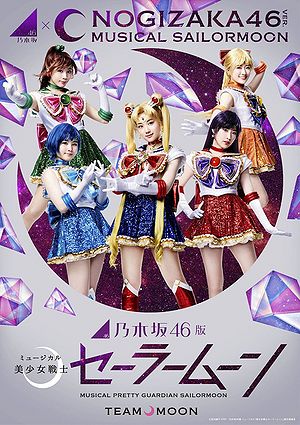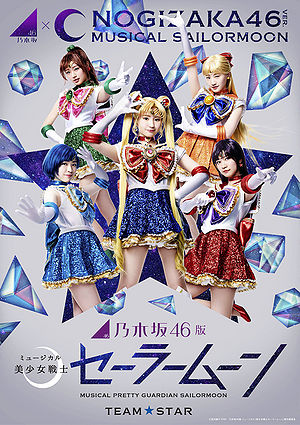 Nogizaka46 Version "Pretty Guardian Sailor Moon" Musical (乃木坂46版 ミュージカル「美少女戦士セーラームーン」) is a 2018 musical featuring members of Nogizaka46 as characters from the Sailor Moon manga and anime franchise. It is produced as part of the celebration surrounding the 25th Anniversary of Sailor Moon.
The musical runs from June 8 to 24 at the Tennozu Ginga Theater and September 21 to 30 at TBS Akasaka ACT Theater both in Tokyo. Nogizaka46 members are split into two teams, Team Moon and Team Star, and they rotate performances of the show daily. The story of the musical covers the first arc of the manga.
Cast
Team Moon
Team Star
Other
Shiraishi Mai as Queen Serenity
Ishii Mikako as Chiba Mamoru (Tuxedo Mask)
Tamaki Nami as Queen Beryl
Ando Chihiro as Kunzite
Kojima Sari as Zoisite
Shin as Nephrite
Takeda Rina as Jadite
Yamauchi Yuka as Osaka Naru
Tanoue Marina as Umino Gurio
Ensemble
Kawamoto Mayuko
Kaburagi Mayu
Saito Kumiko
Kurachi Ayuka
Watanabe Minami
Mitsuoka Mami
Links