Shukan AKB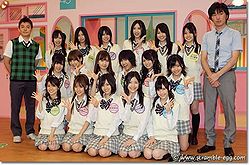 Shukan AKB (週刊AKB) is a AKB48 variety show. SKE48 members were heavily featured as well. The show started on July 10, 2009 and ended on November 30, 2012, when AKB Kousagi Dojo took it's place.
The show as hosted by comedy duo Speed Wagon. On average 17 members were featured each week, with two members serving as MCs. The studio was styled to look like a classroom, and members would complete weekly "homework" tasks such as designing the show logo, T-shirts, creating interesting food combinations, etc.
Oftentimes, a small group of members would film an activity outside of the studio and the VTR footage would be shown during the episode. For example, in Episode 3, Akimoto Sayaka, Kitahara Rie, Noro Kayo, and Takajo Aki paired into two teams and challenged themselves to see which team could take the most photographs with face-cutout sign boards in 12 hours. In Episode 4, Kashiwagi Yuki, Sashihara Rino, Oya Shizuka, and Komori Mika introduced themselves as the "Gekikara Club" (Extreme Spicy Club) and challenged 10 different spicy meals to prove their love of spicy food.