Allyssa Rainne Nares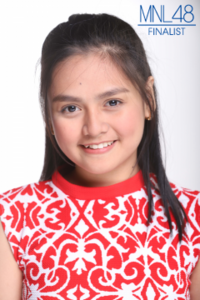 Allyssa Rainne Nares was a MNL48 1st Generation Candidate.
Profile
Name: Allyssa Rainne Nares (アライサ・レイン・ナレス)
Nickname: Rain (レイン)
Age: 17 Years Old
Birthplace:

Pasig City, Metro Manila, Philippines
Height: 152cm

Trivia
Special skill: She can bend and split, plays the guitar.
Favorite colors: Black, gray, and brown
Favorite AKB48 song: 47 no Suteki na Machi e
Describes herself as shy, talented, and inexpressive.
Admires Kojima Haruna.
Media Appearances
TV Shows
Gallery