Guinevere Muse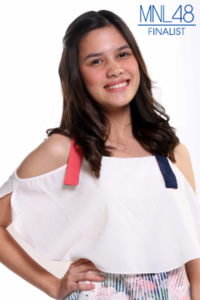 Guinevere Muse is a MNL48 1st Generation Candidate.
Profile
Name: Guinevere Muse
Nickname: Gia
Age: 19 Years Old
Birthdate: November 13, 2000
Birthplace:

Marikina City, Metro Manila, Philippines
Height: 152cm

Trivia
Special skills: Modeling and acting
Favorite color: White
Admires Kojima Haruna.
Loves to read books in quiet places.
Wants to became a lawyer.
Gallery