HKT48 no "Hokamina" ~Sonohoka no minasan~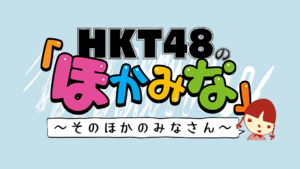 HKT48 no "Hokamina" ~Sonohoka no minasan~ (original title: HKT48の「ほかみな」~そのほかのみなさん~) is a variety TV show featuring members from HKT48.
The show started run on May 20, 2014 and ended on June 28, 2016. It aired Tuesdays on NOTTV at 23:00 JST for one hour.
Outline
This show focuses on HKT48 members other than Sashihara Rino, who will showcase themselves in a small group in an effort to become the new faces of Hakata.
Each episode consists of an introduction and a number of themed corners named after faces & emotions, for example Surprised face (ビックリ顔) or Angry face (プンプン顔). Every corner has an activity that corresponds with this emotion.
At the end of each episode, the best performing member gets picked as Most Valuable Face (MVF).
The show is filmed at a small venue in Fukuoka, called HakataRiverain and features a live audience of fans who can apply to attend a recording free of charge.
List of Episodes
Ep.
Air Date
MVF
Members
1
May 20, 2014
Motomura Aoi
Akiyoshi Yuka, Anai Chihiro, Kodama Haruka, Matsuoka Natsumi, Motomura Aoi, Tashima Meru
The corners for this episode are:

Laughing face (WWW顔), where members come up with funny questions on which the answer must be the name of another member.
Refreshing face (スッキリ顔), where the hosts imitate the lyrics of a song and all members who guess it right get appeal-time.
Moe face (萌え顔), where the members come up with cute lines which start with H, K & T.

2
June 3, 2014
Sakaguchi Riko
Fuchigami Mai, Komada Hiroka, Moriyasu Madoka, Sakaguchi Riko, Shimono Yuki, Ueki Nao
3
June 17, 2014
Yabuki Nako
Akiyoshi Yuka, Kojina Yui, Ota Aika, Tanaka Natsumi, Tomonaga Mio, Yabuki Nako
4
July 1, 2014
Tomiyoshi Asuka
Okamoto Naoko, Goto Izumi, Tomiyoshi Asuka, Matsuoka Natsumi, Yamada Marina, Yamamoto Mao
External Links