Angela Marie Yukim
From Wiki48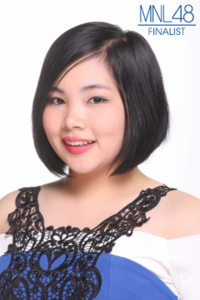 Angela Marie Yukim was a MNL48 1st Generation Candidate.
Profile
Name: Angela Marie Yukim (アンジェラ・マリー・ユキム)
Nickname: Gela (ゲラ)
Age: 20 Years Old
Birthdate: May 8, 1998
Birthplace:

Marikina City, Metro Manila, Philippines
Height: 150cm

Trivia
Special skills: Arnis, impersonating anime characters, playing the guitar
Favorite colors: Blue and black
Favorite book: A Walk To Remember
Admires Maeda Atsuko, Oshima Yuko, and Takahashi Minami.
Has a gothic and chic fashion sense.
She is now a member of the idol group Pastel PH.
Media Appearances
TV Shows
Gallery