BEJ48 Theater
BEJ48 Theater
BEJ48星梦剧院
Location
Chaoyang District, Beijing, China
Building 2 , Sanfeng North Building, 4th Floor, You Tang Plaza, No. 420
Completion Date
April, 2016
Unveiling Day
April 20, 2016
Capacity
300+
Architect
Fuji Tetsuya
Theater Manager
**
Owner
Beijing You Tang life Square
Web
bej48.com/theater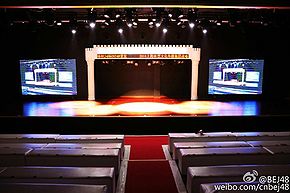 The BEJ48 Theater (BEJ48星梦剧院 "BEJ48 Xingmeng Theater") was where BEJ48 hold their Theater Performances almost everyday. The BEJ48 Theater is in Beijing, China, which is the city that BEJ48 is named after. The opening performance was held on April 29, 2016.
The BEJ48 Theater was situated in the Chaoyang U-Town Shopping Center (悠唐生活广场) in Beijing, with the theater on its 4th floor.
Stages
Team E
Team J
Trainee
MVP
Trivia
Due to COVID-19 pandemic and the quarantine in Beijing, all performances are suspended. Being the only SNH48 Groups theater that couldn't open its doors in a long time since January 2020.