Himitsu
From Wiki48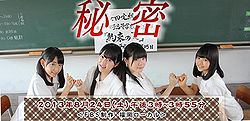 Himitsu (original title: 秘密) is a TV movie drama produced by FBS. It first aired on August 24, 2013 and ran for one hour.
Cast
Plot
The story centers around the Drama Club at the Nasumi Private Girl's High School in Fukuoka.
Worried about bringing the scattered club members together by herself, club president Nozomi presents her resignation to the advisor, but is talked into reconsidering it.
Club member Rika is selfish and too proud; Mari is not independent; and Tomomi is a lonely person who is revolting against her mother getting a new boyfriend.
Nozomi talks to the club members about the programme for their regular performance, but as always they cannot reach an agreement. However, during the conversations, it becomes clear that they all love theater and that giving up is impossible. So Nozomi decides to write a script.
At the same time, Nozomi starts harboring doubts on whether her parents are really her parents.
Finally Nozomi decides on the title "Secrets With No Way Out" for her script. The theme is that everyone keeps one or two secrets.
The day of the performance, on the stage, love, parent-child relationship, conflicts and jealousy between friends, family... The secrets that the club members kept until now are revealed.