Iwate Incident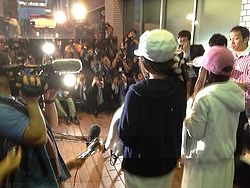 During a handshake event held in Iwate on May 25, 2014, a man attacked several people with a sharp object. Two members (Kawaei Rina and Iriyama Anna), a staff member, and fans present at the event were injured. The members suffered from wounds on their hands and head and had to pass through an emergency surgery. The man responsible for the crime was arrested on the day of the incident. On May 26 the members and the staff member were released from the hospital. The following day, Kawaei and Iriyama announced on their Google+ accounts that they were healthy and doing well. They took a break from the group. Several members also posted on their personal SNS accounts support messages for the victims.
Kawaei Rina made a special appearance at the AKB48 37th Single Senbatsu Sousenkyo, while Iriyama Anna talked to the audience through a phone. Anna later made an appearance in theater on June 30. Both are still being active in social media and are appearing on radio and TV shows when possible.
Kawaei Rina returned to the theater on October 8, 2014, while Iriyama Anna returned on February 13, 2015. Iriyama Anna is still recovering from the injuries on her left hand and is constantly seen wearing a glove. Kawaei Rina announced her graduation on March 26, 2015 with the Iwate Incident being one of the main reasons.
Consequences
All the AKB48 activities that were planned for the final week of May were canceled, including handshake events from AKB48 and its sister groups. At the theater, metal detectors were installed and bag inspection before entering is mandatory. Changes were also made for 2-shot events. Other idol groups, such as Shiritsu Ebisu Chuugaku and Super☆Girls, also cancelled all of their events for the final week of May and announced they would enhance in security.

On May 30th, it was announced that all of AKB48's handshake and 2-shot photo events scheduled in June would be postponed. Neither NMB48 nor SKE48 made statements on whether or not they will sell handshake tickets in their upcoming singles. However, Nogizaka46 has continued their handshake events, albeit with heavily increased security. Most other non-AKB affiliated idol groups have resumed their handshake activities as well.