Majisuka Gakuen 0 Kisarazu Rantouhen
From Wiki48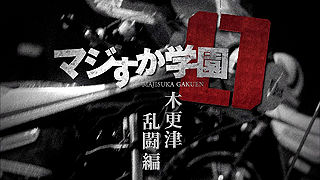 Majisuka Gakuen 0 Kisarazu Rantouhen (マジスカ学園0 木更津乱闘編 "Majisuka Gakuen 0 The story of the Brawl at Kisarazu") is a HKT48 drama SP, presented as a single-episode spin-off of Majisuka Gakuen 4 and Majisuka Gakuen 5.
It will first air November 28th, 2015 on NTV at 25:05 JST and will run for half an hour. The full-length version released on HULU runs for 48 minutes.
The SP was produced in light of HKT48's 6th Single Shekarashika!, of which the A-side was used as the opening song. Just like the single, the SP was produced in collaboration with the rock group Kishidan (氣志團).
The full-length SP will also be included in the Type-A DVD of HKT48's 6th Single.
Synopsis
TBA
Characters
Shekarashika Girls' Commercial High School
Class 1-A
Others
Kishidan gang
From the rock group Kishidan:
Show Ayanocozey as Show
Hikaru Saotome as Mimiuchi
Hitomi Saionji as Teigaku
Hoshi Grandmarnier as Taigaku
Showchikubai Shiratori as Master
Other actors:
Mondo Yamagashi as Mumenkyo
Matsukawa Naruki as Henchmen leader Kenji
Other characters
Okabe Kyouko as Tour guide Koike-san
Announcement trailer
Trivia
Takes place in Kisarazu, Chiba, which is also Kishidan's city of origin