Mousou Deka!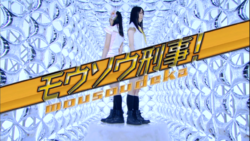 Mousou Deka! (AKB子兎道場) is a Tokai TV drama featuring SKE48 members. The show started on January 12, 2011 and ended on March 16, 2011. The opening song is the 4th SKE48 single, 1!2!3!4! YOROSHIKU!.
Episode 1 (2011.01.12)
Mansion owner Kuwabara Mizuki invites star SKE48 member Matsui Rena to be a judge of a cosplay competition. Just after settling in, however, the mistress is murdered and the cosplay competition is put on hold. One of the contestants Matsui Jurina makes a dramatic entrance as the youngest qualified detective. With possible suspects in the mansion is there any hope that the Mousou Deka! can solve the case?
Featured Members