Nogizaka Ha
From Wiki48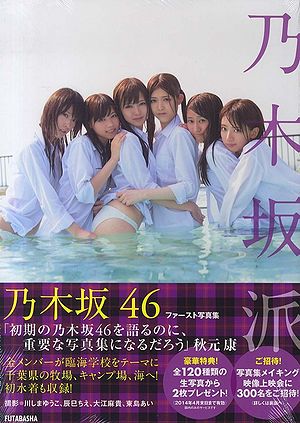 Nogizaka Ha (乃木坂派) is Nogizaka46's first Photobook.
General Information
Release Date: October 22, 2013
Price: 1900 yen
Pages: 160, in the A4 format
ISBN: 9784575305876
Photographs by: Kawashima Yuko, Tatsumi Chie, Oe Maki, and Tojima Ai

Contents
The Photobook theme is "a camping trip of the students of a seaside school". The Nogizaka46 1st Generation members were photographed completing various challenges such as cooking curry outdoors and milking cows on a ranch. They were also photographed at hot springs
In addition, the Photobook featured shots of the members in swimsuits. This is the first time Nogizaka46 members have taken photos in swimwear, a milestone for the group. The decision was somewhat shocking to both members and fans though, since the Nogizaka46 image is often labeled as modest, conservative, or elegant.
Sales
Nogizaka Ha sold over 100,000 copies in its first 5 days

300 buyers of the Photobook were selected by lottery to appear at a private showing of the making-of footage, held on February 16, 2014.