OJS48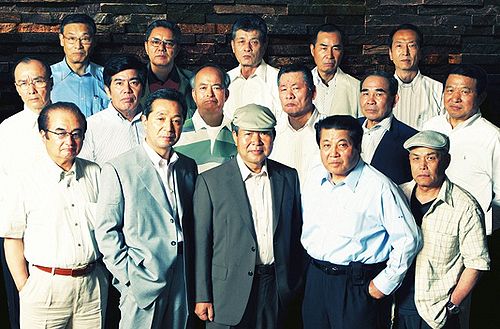 OJS48 (short for Ojisan48) was an all-male Japanese Group produced by Akimoto Yasushi. All the members were former Osaka police officers and detectives, with an average age of 61 years old. The 1st single of the group, Shinkokyuu, was released on October 13, 2010, but after selling only 873 copies in its 1st week, the group was disbanded.
Overview
The group was formed by 16 police officers from the Osaka area, including former detectives. The average age was 61 years old.
The group name comes from the Japanese word ojisan, meaning "uncle" or "middle-aged gentleman".
The group was as part of Shinkokyuu Club (深呼吸倶楽部), a club established with the intention of supporting the leisure time of adults through various leisure activities and events. Shinkokyuu Club was operated by Kyoraku Sangyo Co., Ltd. and managed by Crossgate Co., Ltd.
After their disbandment, some members began to work as security guards for AKB48 Group events based in Japan, such as handshake events and concerts.
Former Members
Nakatani Mitsuo (中谷満男) (Leader) - Former Osaka Prefectural Police Department
Ohji Ichio (大治一雄) - Former Yodogawa Police Chief-Head of the Third Headquarters
Maruo Yasuyuki (丸尾保之) - Former General Manager of Fourth Area Headquarters
Hatahara Kanae (畑原香苗) - Former Suita Police Chief
Mizufune Susumu (水舩進) - Former Boryokudan Countermeasures Division
Kikkawa Shoichi (吉川昇一) - Former Yodogawa Police Station Liberal Arts Chief
Yamada Kenji (山田賢治) - Former Chief of Justice, Criminal Division, Matsubara Police Station
Sugitani Hiroshi (杉谷博) - Former Kawachinagano Police Station General Affairs Section Chief
Seko Yasuhide (瀬古安秀) - Motoizumi Otsu Police Station Criminal Division
Eguchi Yukinori (江口幸徳) - Former Osaka Prefectural Police Headquarters One-sided Mobile Police
Takagi Yuushin (高木勇伸) - Former Sakai Police Station Security Division
Matsumoto Mikio (松本幹夫) - Former Yao Police Station Kendo Senior Teacher
Murabe Mitsuyoshi (村部光義) - Former Kashiwara Police Station Criminal Division
Shimizu Chikashi (清水親) - Former Deputy Chief of Naniwa Police Station Area
Taguchi Yasuyuki (田口康行) - Former Joto Police Station Area Division
Tsubouchi Nobuyuki (坪内信行) - Former Ibaraki Police Station Counselor
Discography
Single
#
Cover
Title
Release date
01
Shinkokyuu
(深呼吸)
2010.10.13
Concert Units
Shinkokyuu (With Takahashi Minami)
External Links