Tsunagirl
From Wiki48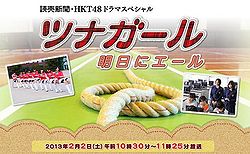 Tsunagirl ~Ashita ni Yell~ (original title: ツナガール ~明日にエール~) is a TV movie drama produced by FBS. It first aired on February 2, 2013 and ran for one hour.
Cast
Main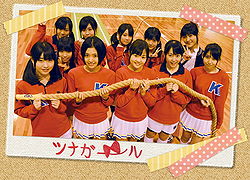 Supporting
Plot
The story plays out in a high-level school called Shiritsu Kasumi Gakuen, where the main character Mami has to become a cheerleader for the tug-of-war club after getting bad grades.
However, Mami doesn't take her punishment very seriously. She does her cheering but afterwards makes fun of the club members during their practice sessions. This leads to the club shunning her, not wanting Mami to continue cheering for them during matches.
To fix this situation Mami gathers new cheerleaders: Yuka, Nozomi and Saki.