AKB 1ji 59fun
From Wiki48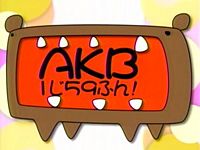 AKB 1ji 59fun is the first season of AKB48's current Variety - AKBINGO!. The show first started on January 24, 2008 and lasted for 10 episodes. During the broadcast of the last episode, it was revealed that the show would move up a time slot and be renamed as AKB 0ji 59fun. AKB 1ji 59fun is hosted by the Comedy Duo Bad Boys and co-hosted by Takada Junji.

Read more about Season 2 - AKB 0ji 59fun
Read more about Season 3 - AKBINGO!

Episode Guide
Note: Subtitles for AKB 1ji 59 fun, AKB 0ji 59 fun, and the first 64 AKBingo episodes can be found at www.AKB-48.com .
AKB 1ji 59fun
| Ep # | Episode Synopsis | Air Date | Rating |
| --- | --- | --- | --- |
| 1 | This episode begins with an Introduction segment with AKB48 and the hosts, Takada Junji and the Badboys, followed by a VTR Segment (AKB48 wa Tengu ni Natteiru) and ending with a performance of Romance, Irane | January 24, 2008 | 2.4% |
| 2 | The participating members play 'Subette Apitte! Tengoku to Jigoku Game!'. One member sits on a movable platform as another member tries to push them into the safe zone. The episode ends with a performance of Romance, Irane | January 31, 2008 | 1.6% |
| 3 | This episode begins with a Title Call by Sato Natsuki, Noro Kayo, Shinoda Mariko and Miyazawa Sae, followed by a Talk segment (Tadashii Idol no Ikiru Michi!!), a game segment (Hodoite Apitte! Ningen Chie No Wa Game), a Live@Shibuya-AX performance of Romance, Irane and finishing with another Talk segment (Naiyameru Idol no Kakekomi Dera) with Akimoto Sayaka | February 7, 2008 | 2.0% |
| 4 | This episode begins with a Talk Segment (Tadashii Idol no Ikiru Michi!!) followed by a Talk/Game Segment with Nachinon visiting Maeda Atsuko on the set of the drama she was shooting at the time. The episode ends with a performance of Sakura no Hanabiratachi 2008 Live @ Shibuya-AX and a Mini Segment (Watashitachi Oshitekudasai!) with Minegishi Minami and Kasai Tomomi | February 14, 2008 | 1.7% |
| 5 | This episode beginss with a Title Call with Maeda Atsuko and Urano Kazumi followed by a Game Segment - Ippan no Kata ni Apitte Oshipin wo Moraou!! with guests (Danshi Gakusei, Male Students) and members Maeda Atsuko, Urano Kazumi, Minegishi Minami, Kojima Haruna and Shinoda Mariko. This is followed with a performance of Saigo no Seifuku. The episode ends with the mini segment - Watashitachi Oshitekudasai with Oshima Yuko, Kojima Haruna and Oshima Mai. | February 21, 2008 | 2.7% |
| 6 | This episode begins with the Title Call with Hirajima Natsumi and Sato Yukari, followed by a Game Segment -Ippan no Kata ni Apitte Oshipin wo Moraou!! with guests (Okama) and members Miyazawa Sae, Takahashi Minami, Oshima Mai, Akimoto Sayaka, Noro Kayo. This is followed with a Mini Segment - Watashitachi Oshitekudasai with Oshima Mai and Shinoda Mariko. The episode ends with a preview of the Sakura no Hanabiratachi 2008 PV. | February 28, 2008 | 1.1% |
| 7 | This episode begin with the Title Call by Oshima Yuko and Oshima Mai followed by a new segment - AKB48 Award Show. This is followed with the game segment - Bibiri Jyanaimon! Sawatte Sawatte Shinken Suijyaku Game! with Minegishi Minami, Akimoto Sayaka, Ota Aika. The episode ends with a mini segment - Watashitachi Oshitekudasai, with Sato Yukari and Shinoda Mariko, and the PV of Sakura no Hanabiratachi 2008 Director's Cut Version | March 06, 2008 | 1.5% |
| 8 | This week the members play a new game Enjite, Damashite. Enryoku Battle. Participating members are split into two teams and have to use their acting skills to trick the other team. This is followed by a mini segment Watashitachi Oshitekudasai with Oshima Yuko and Itano Tomomi. The episode ends with a performance of Sakura no Hanabiratachi 2008 | March 13, 2008 | 2.3% |
| 9 | This episode begins with a talk segment AKB Meantsubako followed by another round of Enjite, Damashite. Enryoku Battle'. The episode ends with a performance of Sakura no Hanabiratachi 2008 and a talk segment Naiyameru Idol no Kakekomi Dera with Kojima Haruna  | March 20, 2008 | 1.2% |
| 10 | The episode begins with the AKB48 Award Show segment and then moves on to the game segment Undou Onchi Jyanaimon! Takadasan ga Ko~ronda!!. The episode ends with a performance of Sakura no Hanabiratachi 2008 and a news announcement that the title of the show will change to AKB 0ji 59fun. | March 27, 2008 | 1.6% |