JKT48 Theater
From Wiki48
JKT48 Theater
Teater JKT48 or Jakarta JKT48 Theater

Location
South Jakarta, Jakarta, Indonesia
fX Sudirman 4th Floor, Jl. Jenderal Sudirman Pintu Satu Senayan, Jakarta Selatan, DKI Jakarta, Indonesia
Completion Date
August 2012
Unveiling Day
September 8, 2012
Capacity
350
Theater Manager
Melody Nurramdhani Laksani
Owner
JKT48 Project
Web
jkt48.com/theater/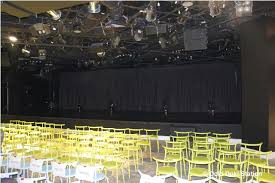 The JKT48 Theater (JKT48劇場), is where JKT48 hold their Theater Performances almost everyday.
The JKT48 Theater is in fX Sudirman, a shopping mall in Jakarta.
This theater is the first international sister group theater created, and has a capacity of 350 people.
The theater General Manager is Melody Nurramdhani Laksani.
Current Stages
Team J
Special Stage 「Team J B•E•L•I•E•V•E Show」 (JKT48 Team J Special Stage "B•E•L•I•E•V•E") (2016.12.09 -)
Team KIII
Special Stage 「Team KIII B•E•L•I•E•V•E」 (JKT48 Team KIII Special Stage "B•E•L•I•E•V•E") (2016.12.08 -)
Team T
2nd Stage 「恋愛禁止条例」 (JKT48 Team T 2nd Stage "Renai Kinshi Jourei" / "Aturan Anti Cinta") (2016.12.07 -)
Team Bunga Matahari
1st Stage 「Bunga Matahari」 (JKT48 Team Bunga Matahari 1st Stage " ひまわり " / "Sunflower") (2016.04.08 - )
Past Stages
Team J
Team KIII
Team T
1st Stage 「手をつなぎながら」 (JKT48 Team T 1st Stage "Te wo Tsunaginagara" / "Sambil Menggandeng Erat Tanganku") (2015.03.15 - 2016.11.26)
Waiting Stage 「パジャマドライブ Waiting Stage」 (JKT48 Team T Waiting Stage "Pajama Drive") (2015.01.28 - 2015.03.06)
Kenkyuusei
Pajama Drive 「パジャマドライブ」 (JKT48 Trainee "Pajama Drive") (2012.05.17 - 2012.12.13, 2013.01.11 - 2013.05.12, 2014.05.24 - 2015.01.17 and 2016.08.07 - 2016.11.19)
Boku no Taiyou 「僕の太陽」 (JKT48 Kenkyuusei "Boku no Taiyou" / "Matahari Milikku") (2013.05.17 - 2013.06.25)