Sweet You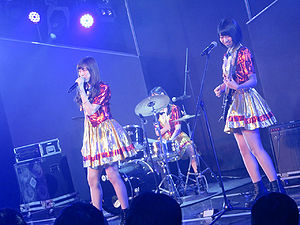 Sweet You is a band unit from HKT48. It performs at concerts and events as either the backing to songs or solo.
Current Members
Former Members
History
The band performed for the first time at HKT48 National Tour ~Zenkoku Toitsu Owatoranken~, at that time it was still nameless and had three members: Anai Chihiro, Yamashita Emiri and Motomura Aoi.
During HKT48 4th Anniversary Matsuri, Sakaguchi Riko joined as a fourth member. That same day it was also announced that the band would get their own official name, selected via a fan suggestion contest in the AKB Newspaper. After going through all the submissions, the four members decided on the name "Sweet You" and announced it in the February 19, 2016 edition of the AKB Newspaper.
Performances