Team BII 1st Stage
From Wiki48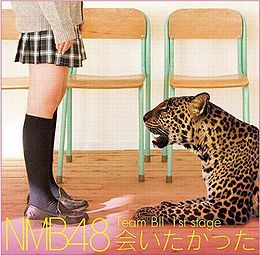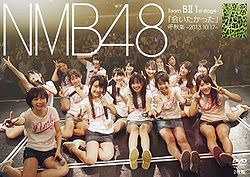 Aitakatta (会いたかった) is NMB48's Team BII 1st Stage (BII1). The stage is a revival from Team A 2nd Stage.
General Information
Stage Name

Aitakatta (会いたかった)

Team

2012.10.10 - 2013.10.17
Setlist
M00. overture

M01. Nageki no Figure (嘆きのフィギュア) (Kurokawa Hazuki, Yabushita Shu, Muro Kanako, Kato Yuuka)

M02. Namida no Shounan (涙の湘南) (Kamieda Emika, Akazawa Hono, Kushiro Rina, Kobayashi Rikako, Yamauchi Tsubasa)

M03. Aitakatta (会いたかった)

M09. JESUS
M10. Dakedo... (だけど・・・)
M11. Dear my teacher

Encore:
M12. Mirai no Tobira
M13. NMB48
M14. Skirt, Hirari
M15. Medley (メドレー)

Surprise Performance
On September 13, 2013, Team BII held a surprise performance of PARTY ga Hajimaru yo, a revival of Team A 1st Stage. The performance was still listed as "Aitakatta", even though "PARTY ga Hajimaru yo" was performed.
Surprise Setlist
M00. overture
M01. Party ga Hajimaru yo (PARTYが始まるよ)
M02. Dear my teacher
M03. Doku Ringo wo Tabesasete (毒リンゴを食べさせて) 

M09. Sakura no Hanabiratachi (桜の花びらたち)
M10. Aozora no Soba ni Ite (青空のそばにいて)
M11. Almond Croissant Keikaku (アーモンドクロワッサン計画)
M12. NMB48
M13. Skirt, Hirari (Encore ver.) (スカート、ひらり (アンコールver.))
M14. Kamonegikkusu (カモネギックス)
M15. Todokanasoude Todokumono (届かなそうで届くもの)

Studio Recording
Artist

Album

Aitakatta (Team BII)

Release Date

2014.01.01

Label/Catalog Number/Price

Label: laugh out loud records
YRCS95013 (CD) / ¥3,000
Tracklist
overture
Nageki no Figure
Namida no Shounan
Aitakatta
Nagisa no CHERRY
Glass no I LOVE YOU
Koi no PLAN
Senaka Kara Dakishimete
Rio no Kakumei
JESUS
Dakedo...
Dear my teacher
Mirai no Tobira
NMB48
Skirt, Hirari
Members
Akazawa Hono, Ishizuka Akari, Ijiri Anna, Ueda Mirei, Umehara Mako, Ota Yuuri, Kato Yuuka, Kamieda Emika, Kusaka Konomi, Kushiro Rina, Kurokawa Hazuki, Kono Saki, Kobayashi Rikako, Muro Kanako, Yabushita Shu, Yamauchi Tsubasa