AKB 0ji 59fun
From Wiki48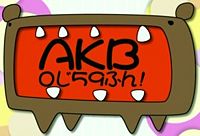 AKB 0ji 59fun is the second season of AKB48's popular variety - AKBINGO!. The show started off as AKB 1ji 59fun but when it was moved up a time slot, it was renamed to AKB 0ji59fun. The first episode aired on April 07, 2008 and ran for 26 episodes before they changed the named to AKBINGO!. The show's main hosts are the comedy duo Bad Boys. The first half of the show also had Takada Junji as a co-host, however he left halfway through the season.

Read more about Season 1 - AKB 1ji 59fun
Read more about Season 3 - AKBINGO!

Episode Guide
Note: Subtitles for AKB 1ji 59 fun, AKB 0ji 59 fun, and the first 64 AKBingo episodes can be found at www.AKB-48.com .
AKB 0ji 59fun
Ep #
Episode Synopsis
Air Date
Rating
1
The episode starts off with Takahashi Minami introducing the new season. We then transition to a short talk segment called AKPedia (Similar to Wikipedia). This section has Sada-san recapping a few humorous things that happened last season. He then makes fun of a few of the members. This segment ends with another Minami Takahashi's Suberenai Hanashi. The next segment is Up Up Quiz. This game consists of two teams facing each other in a quiz battle. A chosen member from each team sits on the slide and every time a member on their team answers a question incorrectly, the slide's angle will increase. Eventually the member will slip and fall into the box of powder beneath them. The episode ends with a studio performance of BINGO!
April 07, 2008
3.1%
2
The episode begins with an AKPedia talk segment. Similar to last episode, Sada-san bashes a few of the members once again and shows off some past funny moments. This is followed by another round of Up Up Quiz. An epic battle between Itano Tomomi and Ohori Megumi takes place. This segment marks the birth of Ohori Nee-san's new and current character. The episode ends with a studio performance of BINGO!
April 14, 2008
4.1%
3
The episode begins with a Talk Segment. The members send "anonymous" messages that they wouldn't usually say to each other. Sada-san, of course, blows their cover and the members have a few interesting discussions. They also reinforce Ohori Megumi's new hentai character. The members then play Gachinko Derby. The Under 20 and Over 20 teams participate in a few activities to rank their fitness level. This episode only showcases the Over 20 team's activities. The Under 20 members will be shown in the next episode. This is followed by a mini game segment Watashitachi Oshitekudasai! with Ohori Megumi and Matsubara Natsumi. The episode ends with a studio performance of Romance, Irane
April 21, 2008
2.2%
4
The episode begins with a continuation of last episode's "anonymous" messages to each other aswell as a continuation of last episode's Gachinko Derby segment, this time with Under 20s challening the fitness activities. This is followed by a mini segment which gives us a glimpse of a few new AKB48 research students. The episode ends with a performance of Aitakatta.
April 28, 2008
2.3%
5
A short VTR of Ono Erena's role in Higurashi no Naku Koro ni is shown. Some VTRs of Takada-san is shown as well. This talk then leads to the next game segment. AKB48 Actress Battle - A revival of last season's Actress Battle segment. Members must act and pretend that they're being shocked and try to deceive the other team into choosing the wrong person.
May 05, 2008
2.6%
6
The episode starts off with a couple of VTRs. This week we see a clip of the Badboy's short roles in Crows Zero. This talk segment eventually leads to the game segment from last week, AKB48 Actress Battle. This week the members are forced to touch something slimy/disgusting (in their eyes). There are 5 members per team and 4 of the members are actually touching a cute stuffed animal. The members must deceive the other team into thinking that the disgusting animal is in their box. The episode ends with a performance of Yume wo Shinaseru Wake ni Ikanai)
May 12, 2008
1.7%
7
This is basically a lead-in segment to the next game. The members previously took a short survey with questions that had a hidden meaning behind them. Some of their answers are silly and some are just plain scary. Judging from the answers to the survey, they narrow down to 3 members who then participate in the next segment. The three chosen members are then placed into a new situation. They then try to accomplish a goal, however they must be careful with how they handle the situation because there's a hidden meaning behind this too. After the segment we see another Watashitachi Oshitekudasai clip. This time it's Oshima Yuko and Kobayashi Kana. The episode then ends with a performance of 50%. After the performance Oshima Mai has a short talk with Takada-san.
May 19, 2008
2.4%
8
This is the part 2 of last week's episode with different situations. This week they aim to find the most spoiled girl in AKB48. After the segment we get another Watashitachi Oshitekudai. This time the two members are Ohori Megumi and Miyazawa Sae. The episode ends with Noro Kayo talking to Takada-san.
May 26, 2008
3.3%
9
This week some new members join the program. The new members are Oku Manami, Miyazaki Miho, Fujie Reina, Kuramochi Asuka and Sato Amina. This week, Takada-san also doesn't show up, and for some unknown reason, he never returns to the show. Ijiri-san also returns to scare the girls. This episode sees the first AKB48 Cosplay Battle segment which returns a few times in the future AKBINGO! episodes. This week, we get to see the Narrator in person, who incidentally is a big Oshima Yuko fan. He then explains the rules. The girls must challenge and try to light up the "Moe Meters" which are placed on the 5 judge's heads. These 5 judges are random people selected somewhere. If the girl manages to light up all 5 "Moe Meters" during their segment, they win 10,000Yen in Food Coupons. If they fail however, they are dealt a harsh punishment by none other than Ijiri-san. The episode ends with a performance of Yume wo Shinaseru Wake ni Ikanai
June 02, 2008
2.3%
10
The episode begins with another round of AKB48 Cosplay Battle!. Next up is a new mini-segment with Shinoda Mariko reading us a bit of AKB48 news. The episode then ends with performance of Aitakatta and then an announcement about the formation of SKE48.
June 09, 2009
2.9%
11
This episode the members take another quiz designed to show their true personality. This game was featured before in episodes 7 & 8. This time without the presence of Takada-san, the members simply find who's the most devilish of the bunch. Like the other two episodes, after the quiz three members are singles out and are forced to do a little skit demonstrating how much of a devil they are. After a short Watashitachi Oshitekudasai segment we get another Shinoda Maristell news segment. The episode ends with the Baby! Baby! Baby! PV.
June 16, 2008
1.6%
12
The same as the last episode. This time the 3 members chosen are: Oshima Yuko, Oshima Mai & Noro Kayo. The episode ends with a Baby! Baby! Baby! studio performance.

Gideon's overview in the Stage48 forum (Warning: Spoilers)

June 23, 2008
1.8%
13
This episode introduces a new segment which lasts up until a few episodes into the AKBINGO! season. The members pretend to be mice and aim for a nice prize which is usually in the form of sweets. In the game the members are given 5 objects/people and out of those 5 things, 1 is actually fake. Their goal is to determine which is real, if they mistakenly choose the fake one, they'll get powder poured on them. Participating members are Takahashi Minami, Oshima Yuko, Kasai Tomomi and Kojima Haruna. This week the members have to decide which of five comedians is the fake one. The episode ends with a performance of Baby! Baby! Baby!.

Gideon's overview in the Stage48 forum (Warning: Spoilers)

June 30, 2008
2.9%
14
The same as the last episode but this time the participating members are Maeda Atsuko, Oshima Mai, Shinoda Mariko and Ohori Megumi. They have to figure out which of five is a real yankee. The episode ends with a performance of Baby! Baby! Baby!

Gideon's overview in the Stage48 forum (Warning: Spoilers)

July 07, 2008
4.3%
15
This episode introduces another new segment. This segment involves guests on the show and a few members compete with them in a new game called Tarinai48. Before each round a picture is shown, in the picture there is something missing from how it should originally be. A member is then chosen and they must identify what is missing, if they fail to answer correctly they are shoved/hit/thrown by the dog into a box of powder. The rules will be changed at later episodes to make the game more fair. The guests are Hire Walking and the participating memembers are Maeda Atsuko, Miyazawa Sae, Ono Erena and Ohori Megumi. Another new mini segment is introduced later on in the episode. This segment involves using a slow-motion camera to do some pranks on certain members. We also have another News48 with Shinoda Maristell segment. The episode ends with a performance of Baby! Baby! Baby!

Gideon's overview in the Stage48 forum (Warning: Spoilers)

July 14, 2008
3.1%
16
A continuation of the last episode. They play Tarinai48 against Hire Walking and the Badboys. Participating members are Umeda Ayaka, Noro Kayo, Akimoto Sayaka and Kojima Haruna. There is also more slow-motion camera fun aswell as News48 with Shinoda Maristell. The episode ends with a performance of Baby! Baby! Baby!

Gideon's overview in the Stage48 forum (Warning: Spoilers)

July 21, 2008
3.7%
17
This week sees the return of the AKB48 Cosplay Battle. Same as the previous rules, the members try to get all 5 judge's moe meters to flash. If they manage to succeed, they win 10,000Yen in food coupons. If they fail they get a punishment from Ijiri. The episode ends with more slow-motion camera fun and a performance of Baby! Baby! Baby!

Gideon's overview in the Stage48 forum (Warning: Spoilers)

July 28, 2008
3.4%
18
This week continues with another round of the AKB48 Cosplay Battle, more slow motion camera fun and News48 with Shinoda Maristell. The episode ends with a performance of Baby! Baby! Baby!

Gideon's overview in the Stage48 forum (Warning: Spoilers)

August 4, 2008
1.9%
19
This week begins with another round of Tarinai48. Participating members are Noro Kayo, Nakanishi Rina, Ono Erena and Maeda Atsuko for the first part and Miyazaki Miho, Oshima Yuko, Shinoda Mariko and Sato Natsuki for the second part. The episode ends with News48 with Shinoda Maristell and a performance of Baby! Baby! Baby!

Gideon's overview in the Stage48 forum and a little bit extra (Warning: Spoilers)

August 11, 2008
2.5%
20
The episode begins with a continuation of Tarinai48 with Ohori Megumi, Umeda Ayaka, Ota Aika and Kojima Haruna. The second half of the episode has Sada-san going to the Akihabara Theater and hijacking the stage during a Romance, Irane performance. He learns the dance and come out during the real performance without the members knowing. This was a "revenge" plan that he came up with because the members weren't scared of him anymore.

Gideon's overview in the Stage48 forum (Warning: Spoilers)

August 18, 2008
2.7%
21
To be written.

Gideon's overview in the Stage48 forum (Warning: Spoilers)

August 25, 2008
1.9%
22
To be written.

Gideon's overview in the Stage48 forum (Warning: Spoilers)

September 01, 2008
2.9%
23
To be written.

Gideon's overview in the Stage48 forum (Warning: Spoilers)

September 08, 2008
3.5%
24
To be written.

Gideon's overview in the Stage48 forum (Warning: Spoilers)

September 15, 2008
2.9%
25
To be written.

Gideon's overview in the Stage48 forum (Warning: Spoilers)

September 22, 2008
3.9%
26
To be written.

Gideon's overview in the Stage48 forum (Warning: Spoilers)

September 29, 2008
2.4%