GNZ48 Team G 2nd Stage
From Wiki48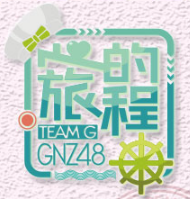 Xīn de Lǚchéng (心的旅程) is GNZ48 Team G's 2nd Stage (G2). The stage is a revival of Team SII 6th Stage.
General Information
Stage Name

Xīn de Lǚchéng (心的旅程)

Team

2016.10.14 -
Setlist
M00. overture
M01. Xin de Lucheng (心的旅程)
M02. Shicha Mima (时差密码)
M03. Xiao Yuzhou (小宇宙)
M04. Mengna Lisha Meiyou Zipaizhao (蒙娜丽莎没有自拍照)

MC1
M05. Haoyou Chuangketie (好友创可贴) (Zeng AiJia, Lin JiaPei, Liu XiaoXiao, Luo HanYue)

M06. Dipingxian (地平线) (Xie LeiLei, Li QinJie, Yang QingYing, Xiang Yun, Zhou QianYu)

M07. Xiayizhan Shi Ni (下一站是你) (Chen YuQi, Huang LiRong)

M08. Xin Shijie (新世界) (Liu MengYa, Zhang KaiQi, Gao YuanJing, Zhang QiongYu)

M09. Jiangluosan (降落伞) (Chen Ke)

MC2
M10. Kuanghuan Yamaxun (狂欢亚马逊)
M11. Luoma Jiari (罗马假日)

MC3
M12. Niuyue Meng (纽约梦)
M13. Yueguang Xia (月光下)

Encore:
M14. Chaoliu Guanjun (潮流冠军)
M15. Qingchun Haojiao (青春号角)
M16. Wo de Wutai (我的舞台)

Participating Members
Shonichi
Chen Ke, Chen YuQi, Du YuWei, Gao YuanJing, Huang LiRong, Li QinJie, Lin JiaPei, Liu MengYa, Liu XiaoXiao, Luo HanYue, Xiang Yun, Xie LeiLei, Yang QingYing, Zeng AiJia, Zhang KaiQi, Zhang QiongYu, Zhou QianYu
Trivia
Members who didn't participate in the Shonichi: Hu YiYing.
Huang LiRong and Xiang Yun debut stage.
The theme of the stage was changed from a plane ride to a cruise.
External Links