GNZ48 Team NIII 1st Stage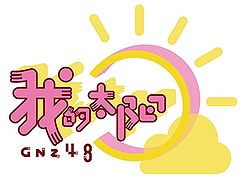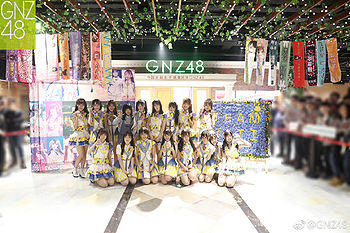 Boku no Taiyou (我的太阳) is GNZ48 Team NIII's 1st Stage. The stage is a revival from Himawarigumi 1st Stage, with the songs being sung in Mandarin.
General Information
Stage Name

Boku no Taiyou (Wǒ de Tàiyang) (我的太阳)

Team

2016.04.30 - 2017.03.18
Setlist
M00. overture
M01. Dreamin' Girls (星梦女孩)
M02. RUN RUN RUN (奔跑吧,少女!)
M03. Mirai no Kajitsu (未来的果实)
M04. Viva! Hurricane (飓风来袭)

MC1
M05. Idol Nante Yobanaide (专属偶像) (Lu Jing, Xian ShenNan, Xiao WenLing, Chen HuiJing) + BG Backdancers
M06. Boku to Juliet to Jet Coaster (朱丽叶) (Chen NanXi, Zuo JiaXin, Hong JingWen)
M07. Higurashi no Koi (暮蝉之恋) (Liu QianQian, Liu LiFei)
M08. Itoshisa no defense (爱到累了) (Tang LiJia, Chen XinYu, Xiong XinYao)
M09. Himawari (向日葵) (Zuo JingYuan, Zheng DanNi, Feng JiaXi, Sun Xin)
MC2
M10. Takeuchi Senpai (梦中情人)
M11. Sonna Konna Wake de (疯狂的理由)
M12. Déja vu (似曾相识)

MC3
M13. Yuuhi wo Miteiru ka? (夕阳西下)

Encore:
M14. Lay Down (女王殿下)

M15. BINGO!
M16. Boku no Taiyou (我的太阳)

Participating Members
Shonichi

Chen HuiJing, Chen NanXi, Chen XinYu, Feng JiaXi, Hong JingWen, Liu LiFei, Liu QianQian, Lu Jing, Sun Xin, Tang LiJia, Xian ShenNan, Xiao WenLing, Xiong XinYao, Zheng DanNi, Zuo JiaXin, Zuo JingYuan
Trivia
Last AKB48 Group stage to be performed by a SNH48 Group.
Promotional MV
External Links