Majisuka Gakuen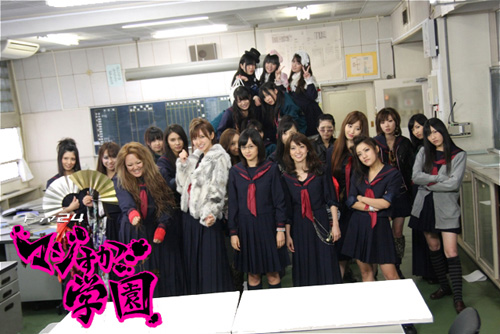 Majisuka Gakuen (マジすか学園) is an AKB48 drama. The show was aired from January 8, 2010 to March 26, 2010.
Details
Synopsis
Two students, Maeda Atsuko and Onizuka Daruma, transfer on the same day to the all-girls school Majisuka Gakuen. In this school, violence and fighting are common among the Yankee students. Daruma causes a fuss as soon as she enters the school, winning in her first fight in the schoolyard but then being beaten by the school's strongest fighting group, Rappapa, after she challenged them. In contrast to Daruma's bold-but-powerless attitude, Maeda is actually a strong girl despite of her silent nature. The next day Maeda finds Daruma being beaten by another gang, Team Hormone, on the outdoor stairwell. Hearing the word "Majisuka?" (meaning are you serious?) from the girls instantly awakens Maeda's fighting nature and causes her to beat up Team Hormone. Her total victory makes waves at the school and the news even reaches the leader of Rappapa. Afterwards, Daruma acknowledges Maeda as her boss. A friendship grows between the two girls as they make their way through school and the fights that come with it.
A second season, Majisuka Gakuen 2 (マジすか学園2), aired in 2011. A third season, Majisuka Gakuen 3, aired in 2012.
Cast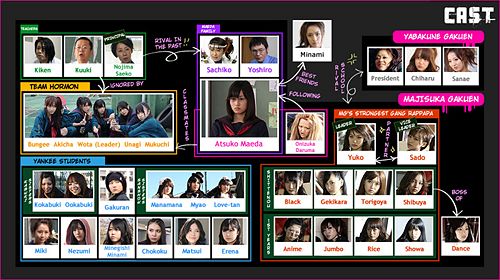 Main Characters
Maeda Atsuko as herself
Nachu as Onizuka Daruma

Rappapa
Oshima Yuko as herself
Shinoda Mariko as Sado
Kojima Haruna as Torigoya
Matsui Rena as Gekikara
Kashiwagi Yuki as Black
Itano Tomomi as Shibuya
Nakaya Sayaka as Anime
Tanabe Miku as Jumbo
Yonezawa Rumi as Rice
Katayama Haruka as Showa
Yagami Kumi as Dance

Team Hormone
Sashihara Rino as Wota
Kitahara Rie as Unagi
Takajo Aki as Akicha
Nito Moeno as Bungee
Komori Mika as Mukuchi

Majisuka All-Girls School
Kasai Tomomi as Okabuki (Ep. 2, 7~12)
Kuramochi Asuka as Kokabuki (Ep. 2, 7~12)
Miyazawa Sae as Gakuran (Ep. 3, 7~12)
Watanabe Mayu as Nezumi (Ep. 3~6, 8~12)
Ota Aika as Lovetan (Ep. 4, 12)
Oku Manami as Manamana (Ep. 4, 12)
Miyazaki Miho as Myao (Ep. 4, 12)
Minegishi Minami as Shaku (Ep. 5, 12)
Akimoto Sayaka as Chokoku (Ep. 5, 7~12)
Matsui Jurina as Center (Ep. 6, 12)
Ono Erena as Erena (Ep. 8~12)
Takahashi Minami as Minami (Ep. 9~10, 2~8, 12)

Yabakune Gakuen
Sato Amina as Chiharu
Sato Yukari as Sanae