SKE48 Theater
From Wiki48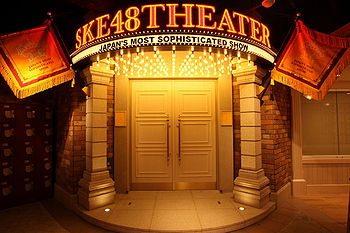 The SKE48 Theater (SKE48劇場), is where SKE48 holds their Theater Performances almost everyday. The SKE48 Theater is in SUNSHINE SAKAE, Nagoya, which is the place that SKE48 is named after. The SUNSHINE SAKAE has a ferris wheel on the side of the building, making it an attractive location for the SKE48 Theater.
The SKE48 Theater was eventually renovated and the renovations were completed in late 2012.
The current theater manager is Shiba Tomoya. It was formerly Yuasa Hiroshi.
Current Stages
Team S
Team KII
Team E
Kenkyuusei
Past Stages
Team S
Team KII
Team E
Kenkyuusei