VIVA JKT48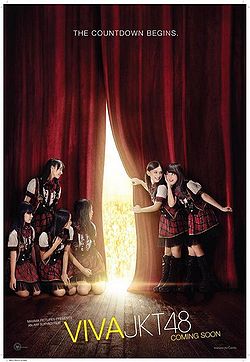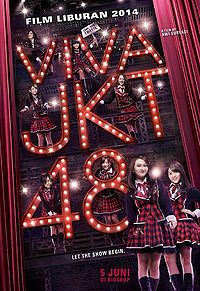 "VIVA JKT48" is the 1st JKT48 movie. It was released on June 5, 2014. The movie is fictional, but will be based off of various moments of JKT48 history since its formation in 2011.
Film Information
Director: Awi Suryadi
Producer: Yoen K.
Writer: Cassandra Massardi, Alim Sudio, and Raditya
Music: Joseph S. Djafar, Sadewo Prasetyo, Adityawan Susanto, and JKT48 Songs
Cinematography: Enggar Budiono

Editor: Ryan Purwoko
Production Company: Dentsu Media Group Indonesia, AKS Co. Ltd., and Maxima Pictures
Distributor: Maxima Pictures
Released Date: June 5, 2014 (Indonesia), June 11, 2014 (Singapore and Malaysia), and February 18, 2015 (Hong Kong, Taiwan, and China)
Duration: 01:21:34

Language: Bahasa Indonesia
Genre: Teen Comedy Drama
Synopsis
Suddenly, JKT48 was disbanded unilaterally by Ms. Kejora and she seized JKT48 Theater. The fans who were waiting for JKT48 had to be disappointed because their idol had to be changed to a new idol called BKT48 which was created by her. Ms. Kejora challenged JKT48 Members to collect Rp. 1.000.000.000 if they want to buy their possition (return back). So, they started to collect it and restarted their carrier from below.
Main Characters

Rona Anggreani as herself and Nora (BKT48)
Shinta Naomi as herself and Maoni (BKT48)
Meirayni Fauziah as Vega (BKT48)
Another JKT48 Members and more than 700 JKT48 Fans
Ayu Dewi as Ms. Kejora
Toni Taulo as Jimmy (Ms. Kejora's Assistant)
Djaitov Yanda (Bang Tigor) as Theater Guard

Mario Maulana as Oi
Bobby Samuel as Bobby
Stephanus Tjiproet as Miko
Nobuyuki Suzuki as Takeshi-San (JKT48 Manajer)
Babe Cabita as Lawson's Servant
Rony Imannuel (Mongol) as Goon/Preman
Soleh Solihun as Zoo Keeper
Muhadkly Acho as JKT48 Fans

Song Track