AKB48 Group Asia Festival
From Wiki48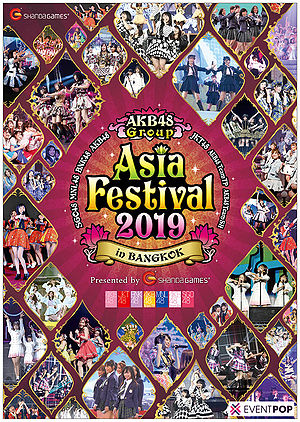 AKB48Group Asia Festival 2019 in Bangkok Presented by SHANDA GAMES was held on January 27, 2019 in Bangkok, Thailand (IMPACT Arena Muang Thong Thani) it featured AKB48, JKT48, BNK48, MNL48, AKB48 Team SH, AKB48 Team TP, and SGO48.
Performing Members
JKT48 ( Indonesia)
BNK48 ( Thailand, Host)
Team BIII: Cherprang Areekul, Isarapa Thawatpakdee, Jennis Oprasert, Jiradapa Intajak, Kanteera Wadcharathadsanakul, Milin Dokthian, Natruja Chutiwansopon, Patchanan Jiajirachote, Pimrapat Phadungwatanachok, Praewa Suthamphong, Punsikorn Tiyakorn, Warattaya Deesomlert
MNL48 ( Philippines)
SGO48 ( Vietnam)
Mini-concert Setlist
M00. Thai Traditional Dance
M00. Overture
M01. Manatsu no Sounds Good!

MC. Members Introduction
M02. 365nichi no Kamihikouki
M03. Ponytail to Shushu

MC. Yokoyama Yui introduces new AKB48 Game "Cherry Bay Blaze"

M04. Iiwake Maybe

END
M00. Overture
M01. PARTY ga Hajimaru yo (Thai version)
M02. Saikou ka yo
M03. Baby! Baby! Baby!

MC. Members Introduction
M04. Special Medley
-Kamonegix
-How come?
-Don't Look Back!

MC.
M05. Gingham Check

END
M00. Overture
M01. Aitakatta (Acoustic version)

MC. Members Introduction
M02. Iiwake Maybe (Acoustic version)
M03. Koi Suru Fortune Cookie (Acoustic version)

END
MC. Members Introduction
M02. LOVE TRIP

END
MC. Members Introduction
END
MC. Members Introduction
M02. SGO48

END
Setlist
Kage-anna: Oguri Yui, Cindy Yuvia, Cherprang Areekul
M00. Overture
M01. Aitakatta (All)
M02. Medley
-AKB48
-BNK48
-JKT48
-MNL48
-SGO48
-AKB48 Team TP
-AKB48 Team SH

MC1
M03. Shonichi (SGO48)
M04. Shoujotachi yo (SGO48)

M05. Mae Shika Mukanee (AKB48 Team TP)
M06. Sougen no Kiseki (AKB48 Team TP)

M07. LOVE TRIP (AKB48 Team SH)
M08. 365nichi no Kamihikouki (AKB48 Team SH)

M09. PARTY ga Hajimaru yo (MNL48)
M10. First Rabbit (MNL48)
M11. Iiwake Maybe (MNL48)

M12. RIVER (BNK48)
M13. Oogoe Diamond (BNK48)
M14. Kimi wa Melody (BNK48)

M15. UZA (JKT48)
M16. Flying Get (JKT48)
M17. High Tension (JKT48)

M18. Kibouteki Refrain (AKB48)
M19. Jabaja (AKB48)
M20. #SukiNanda (AKB48)

MC2

VTR - WRD48 Senbatsu Announcement
M21. Heavy Rotation (WRD48)

MC3
M22. Tenshi no Shippo (Sin Tik-kei, Liu Nian, Trần Cát Tường)
M23. Blue rose (Shekinah Arzaga, Cindy Yuvia, Punsikorn Tiyakorn, Võ Phan Kim Khánh)
M24. Temodemo no Namida (Cherprang Areekul, Okada Nana)
M25. Heart Gata Virus (Chiu Pin-han, Oguri Yui, Praewa Suthamphong)
M26. End Roll (Mao WeiJia, Shani Indira Natio, Jennis Oprasert, Abelaine Trinidad)
M27. Tsuki to Mizukagami (Yokoyama Yui, Mukaichi Mion, Natruja Chutiwansopon (Piano))

M28. Kimi no Koto ga Suki Dakara
M29. After Rain
M30. Everyday, Katyusha
M31. Sakura no Hanabiratachi

Encore
EN01. AKB Festival

MC4
EN02. Koi Suru Fortune Cookie

Trivia
A total of 76 members participated in this event.
WRD48 Members:
External Link