AKB48 Official Music Game
From Wiki48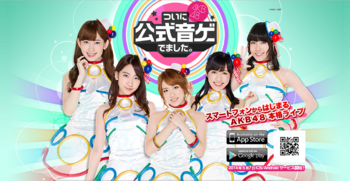 AKB48 Official Music Game (AKB48 公式音ゲー ) (also known as AKB48グループ ついに公式音ゲーでました。 and formerly known as AKB48 公式音ゲー/ついに公式音ゲーでました。) is the first music game app featuring AKB48, SKE48, NMB48 and HKT48. It was released on May 7 for Android and iOS including members, costumes and songs from AKB48, SKE48, NMB48 and HKT48. The game is free and only available to download in Japan.
AKB48 Mode (AKB48 モード)
Songs Included and Levels to Unlock Them
Daily Songs
(these songs also drop the pink ribbon blouse costume)
Limited Time Only Songs
Members Included
Iriyama Anna, Iwata Karen, Oya Shizuka, Owada Nana, Ogasawara Mayu, Kojima Natsuki, Kojima Haruna, Sasaki Yukari, Shimazaki Haruka, Shiroma Miru (NMB48), Takita Kayoko, Taniguchi Megu, Nakanishi Chiyori, Nakamura Mariko, Hirata Rina, Maeda Ami, Miyazaki Miho, Miyawaki Sakura (HKT48), Yamada Nanami, Yokoyama Yui
Aigasa Moe, Abe Maria, Ishida Haruka, Ichikawa Manami, Kodama Haruka (HKT48), Shinozaki Ayana, Shimada Haruka, Shimoguchi Hinana, Suzuki Mariya, Takajo Aki, Tano Yuka, Nakata Chisato, Nakano Ikumi, Nagao Mariya, Fujita Nana, Minegishi Minami, Mukaichi Mion, Muto Tomu, Mogi Shinobu, Yumoto Ami, Yamamoto Sayaka (NMB48)
Iwasa Misaki, Umeta Ayano, Oshima Ryoka, Kashiwagi Yuki, Kato Rena, Kizaki Yuria, Goto Moe, Sakaguchi Nagisa, Takeuchi Miyu, Tatsuya Makiho, Tanabe Miku, Fukuoka Seina, Yabuki Nako (HKT48), Yokoshima Aeri, Watanabe Mayu, Watanabe Miyuki (NMB48)
Ino Miyabi, Izuta Rina, Iwatate Saho, Okawa Rio, Omori Miyu, Okada Ayaka, Okada Nana, Kawamoto Saya, Kitagawa Ryoha (SKE48), Kitazawa Saki, Kojima Mako, Komiyama Haruka, Sato Kiara, Shibuya Nagisa (NMB48), Takahashi Juri, Tomonaga Mio (HKT48), Nishino Miki, Nozawa Rena, Murayama Yuiri
SKE48 Mode (SKE48 モード)
Songs Included and Levels to Unlock Them
Daily Songs
Limited Time Only Songs
(for the time being Namida Surprise! is not available on the SKE48 Mode)
Members Included
Azuma Rion, Inuzuka Asana, Oya Masana, Kitagawa Ryoha, Goto Risako, Sato Mieko, Takeuchi Mai, Tanaka Natsumi (HKT48), Tsuzuki Rika, Nakanishi Yuka, Noguchi Yume, Futamura Haruka, Matsui Jurina, Matsumoto Chikako, Miyazawa Sae, Miyamae Ami, Yakata Miki, Yamauchi Suzuran, Watanabe Miyuki (NMB48)
Abiru Riho, Arai Yuki, Ishida Anna, Uchiyama Mikoto, Ego Yuna, Oba Mina, Kitano Ruka, Goudo Saki, Souda Sarina, Takagi Yumana, Takatsuka Natsuki, Takayanagi Akane, Hidaka Yuzuki, Furukawa Airi, Furuhata Nao, Yamashita Yukari, Yamada Nana (NMB48)
Isohara Kyoka, Ichino Narumi, Iwanaga Tsugumi, Umemoto Madoka, Kato Rumi, Kimoto Kanon, Kumazaki Haruka, Koishi Kumiko, Kobayashi Ami, Saito Makiko, Sakai Mei, Sato Sumire, Shibata Aya, Suda Akari, Takatera Sana, Tani Marika, Fukushi Nao
NMB48 Mode (NMB48 モード)
Songs Included and Levels to Unlock Them
HKT48 Mode (HKT48 モード)
Songs Included and Levels to Unlock Them
There are a multitude of costumes included within the game, including costumes for all available songs.
External Links