AKB48 49th Single Senbatsu Sousenkyo 〜Mazu wa Tatakaou! Hanashi wa Sorekara da〜
From Wiki48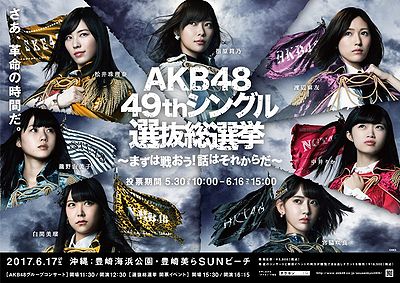 The AKB48 49th Single Senbatsu Sousenkyo 〜Mazu wa Tatakaou! Hanashi wa Sorekara da〜 (49thシングル 選抜総選挙~まずは戦おう!話はそれからだ~) will be held on 17 June 2017 at Toyosaki Seaside Park, Toyosaki Villa SUN Beach in Tomigusuku, Okinawa Prefecture. Fans made their voices heard by voting for their favorite AKB48/SKE48/NMB48/HKT48/NGT48/STU48/BNK48 member at the ninth annual AKB48 Group members election.
The top 16 members are featured in the Senbatsu of the group's 49th single (51th single overall). Meanwhile, the 17th to 32nd place members join Undergirls for the B-side track, the 33rd to 48th place members join the Next Girls unit for the 2nd B-side track, and the 49th to 64th place members join the Future Girls for the 3rd B-side track, while the 65th to 80th place members will join the Upcoming Girls unit for the 4th B-side track.
Eligible Members
For a member to participate in the Senbatsu Sousenkyo, she must first be an active member of AKB48, SKE48, NMB48, HKT48, NGT48, STU48 or Team Kaigai as of 20 March 2017.
Eligible members who wish to run need to submit an application (available from March 25 to March 31) in order to participate.
Selected Members
Final Results
Names in bold denote the Senbatsu
Participating Members
The day that the member submitted her application is written in parentheses ().
Voting Methods
Fans will have twenty methods of voting. Voting will open on May 30, 2016 at 10:00 JST and close on June 16, 2016 at 24:00 JST.
48th Single (Negaigoto no Mochigusare) serial number
AKB48 Fanclub member
AKB48 OFFICIAL NET membership
AKB48 Official Smartphone App Member
AKB48 Group Revival!!ON DEMAND membership
AKB48 LIVE!! ON DEMAND member
SKE48 LIVE!! ON DEMAND member
NMB48 LIVE!! ON DEMAND member
HKT48 LIVE!! ON DEMAND member
NGT48 LIVE!! ON DEMAND member
AKB48 Mobile member
SKE48 Mobile member
NMB48 Mobile member
HKT48 Mobile member
NGT48 Mobile member
AKB48 Mail member
SKE48 Mail member
NMB48 Mail member
HKT48 Mail member
NGT48 Mail member
Trivia
Eligible members who didn't apply:
The first election to feature STU48 members
Kawai Anna applied for the election, but retired it after her graduation.
Muto Tomu applied for the election, but retired it on April 12th.
External Links